So today we headed down Wharfedale to do a circuit of the lanes between Otley and
Almscliffe Crag. Despite the absence of many of the Saturday regulars who were suffering
the hot conditions in Mallorca, 15 turned up for this popular route. The weather was
"middling" but thankfully dry.

Arrangements made with our café stop at Leathley Farm Shop meant that a prompt
departure was necessary to make their breakfast food cut off time of 1130. They had been
very helpful in taking advance orders and reserving tables for us from 1100.
We split into 2 groups and got away as the church clock struck 9.30 with Edward and Dave
arriving just in time to join in. Both groups kept up a brisk pace and kept the "catch ups" to a
minimum ensuring that we arrived in good time at Leathley to enjoy the bacon or egg or
sausage butties or toasted tea cakes that had been ordered.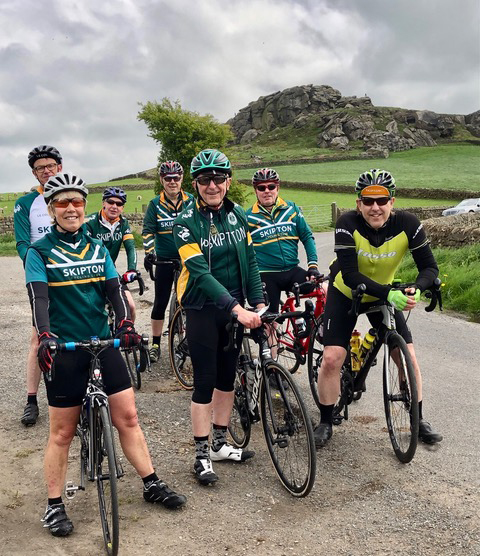 Mechanical problems dominated the chat in the first group as Paul had lost the power in his
Di2 and was thus stuck on his big ring. Not a helpful situation to be in cycling around these
parts! Inevitably he had to withdraw from the rest of the ride to make a beeline home and a
recharge! Progress from Leathley was at a more relaxed pace without any deadlines to meet. The route through Weeton and Huby gave us a view of "how the other half live" in the "Golden Triangle" of villages between Leeds and Harrogate.

Almscliffe Crag dominates the skyline for miles around and after a short climb up to it we
could take in the panorama stretching from Cookridge in Leeds to Ilkley Moor and beyond.
Several members hadn't been this way previously and expressed their pleasure at finding such a spot.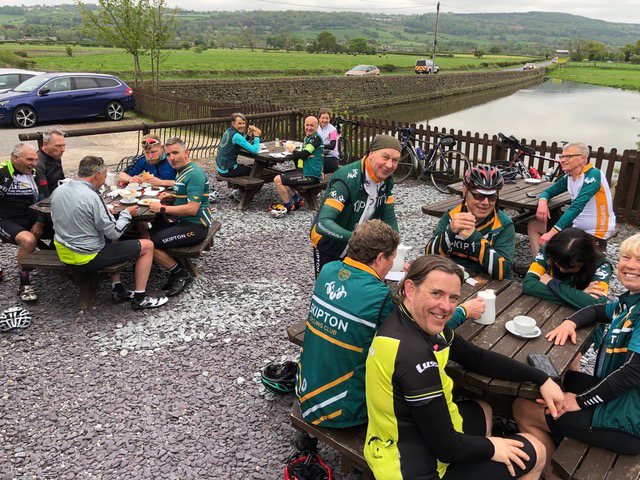 The route then covered several miles of quiet lanes before crossing the bridge at Lindley
and climbing steeply to Farnley Primary School then quickly descending to Otley.
A pacey turn of speed from Askwith to the pack horse bridge at Ilkley provided the chance
of getting a PR on Strava with the group riding tidily together behind John putting out some
power at the front.
Interestingly along this part of the route all the way to Embsay we were passed by scores of
cyclists taking part in the Big Fat Bike Ride finishing at Ilkley Rugby Club. As usual the ride ended with a coffee and cake in the Clubhouse.
Steve Wilkinson
Ride Leader